Availability

By David Gibbons, 24 June 2021
Where and when can I play for you, your group, or event?
Schedule
I am retired now, and have much more freedom schedule-wise than before the pandemic.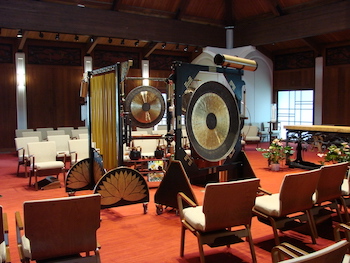 Performance Location and Environment
My setup takes some space, typically about 120 square feet. The audience typically likes to recline to listen to me, and they will need space for that. As they will not be dancing in a hysterical frenzy, a cold room won't work well. Since I am often making quiet sounds during the performance, a noisy environment will not be desirable. Some background noise will be OK, but a noisy convention hall would be challenging.
I like being right in the middle of the audience (better sound coverage), but I can work from a stage.
Audience Interaction
I enjoy explaining these unusual instruments to people, and even letting them gently try playing them, typically after performances. (If there is time available.)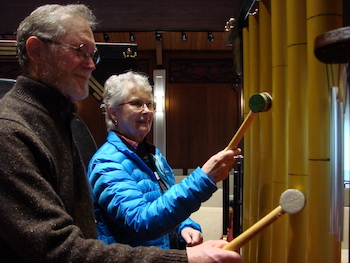 Transport and Setup
Tranquil Sound Gardens consists of around a quarter ton of bulky and heavy equipment. Even with the seats removed, my Toyota minivan is packed solid.
Unlike the setup efforts required of harmonica or piccolo players, it is a lot of work to tear down, load, transport, unload, move, setup and position the instruments. Due to a lamentable lack of groupies, I typically need an hour and a half to set everything up somewhere, plus the time to move things from the van to wherever I would be playing. Long flights of stairs and steep ramps or slopes add further to the challenge. Teardown is about as much work as setup, and helpers are only really useful once I have things packed and ready to move, which takes about a half hour. Still, having some helpers will always be appreciated.
Insurance
I have priced liability insurance (typical $1 Million coverage) and could start coverage if it is required for participation for your event. Getting this set up would take some time, so I'd need a good amount of advance warning.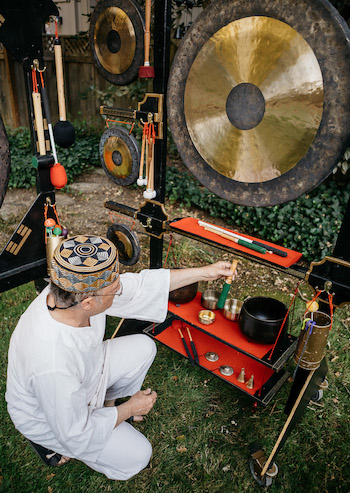 Bottom Line
While I love to play for people, if you ask me to travel long distances to play for 5 minutes to open your event, you will have to bribe me with extra money. (We'll negotiate) Because of the effort involved, I much prefer having at least 45 minutes to perform.
In a practical sense, due to the limitations I face, most of my activities will be happening around the San Francisco Bay Area, as I live in Hayward. Travel further afield would require arranging lodging.
I understand that I am limiting the possibilities for reaching out to my adoring public, but I have to survive too. As I am not a young rock musician, I have to run at a more, shall we say, tranquil pace.
I have not created Tranquil Sound Gardens to make a living, but I do want to cover my costs and effort when it is fair and reasonable to do so.


Updated 24 June 2021 by David Gibbons
Contents copyright 2021 by David C. Gibbons